Rock Block Vertical '14-'19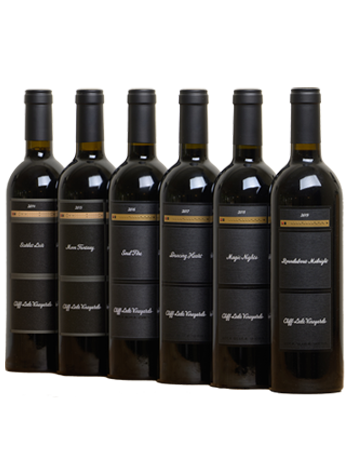 Fit for a collector, this six-bottle vertical is classic, lush, Stags Leap District Cabernet Sauvignon. Each vintage name is a mashup of two of our favorite rock songs, which double as names for our vineyard blocks. For example, 2019 Roundabout Midnight is made from vineyard blocks named after Yes' "Roundabout" and Eric Clapton's "After Midnight". This set is displayed in a black six-bottle gift box and will include a vineyard map of our "Rock Blocks." This set includes one bottle of the following Cabernet Sauvignons from our Stags Leap District estate:
2014 "Scarlet Love" - Wine Advocate 97+
2015 "Moon Fantasy" - Wine Advocate 94
2016 "Soul Fire" - Antonio Galloni 96
2017 "Dancing Heart" - Wine Enthusiast 96
2018 "Magic Nights" - Antonio Galloni 95
2019 "Roundabout Midnight" - Wine Advocate 94
Six-bottle gift box included.