Butternut Squash Crostini with
Goat Cheese Mousse & Fig Reduction
By Chef Lynn of Poetry Inn Napa Valley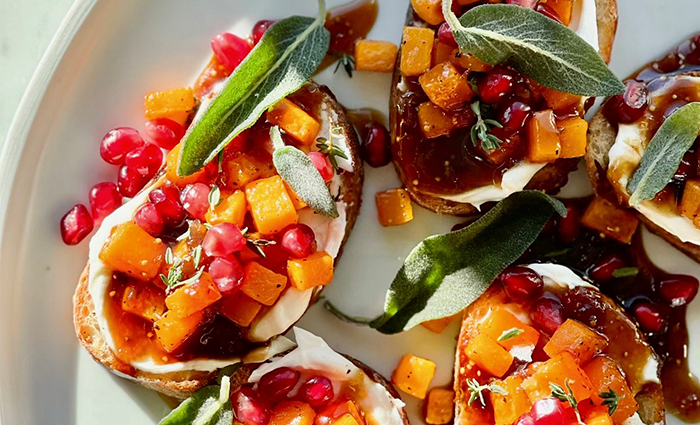 Ingredients:
1 medium sized butternut squash, peeled & cut into small dice (about 4 cups)
1 tablespoon, maple syrup
4 tablespoons olive oil, plus more for drizzling
1 baguette, sliced
1 garlic glove, optional
1 cup goat cheese, softened
2 tablespoons heavy cream or half n half
1 tablespoon butter
30 sage leaves, for frying
pomegranate arils, for garnish
2 tablespoons fig preserves
2 tablespoons balsamic glaze
salt & pepper to taste
Directions:
Preheat the oven to 420°F.

In a large bowl, toss the butternut squash with 2 tablespoons of olive oil and the maple syrup, season with salt and pepper. Arrange the squash in a single layer on a lined baking sheet. Roast, tossing occasionally, until the squash is golden and tender, about 25-30 minutes. Let cool & set aside.

Lay the sliced baguette on a sheet tray and drizzle each slice with a little olive oil and season with salt & pepper. Toast until lightly golden brown, about 6 minutes. They should be crispy on the edges and chewy in the center. Very lightly rub a clove of garlic onto each slice.

In a small sauce pot over medium low heat, add the fig preserves, 2 tablespoons olive oil, balsamic glaze & salt. Simmer on low heat for about 30 seconds until the sauce has reduced slightly. Stir & set aside.

Place the goat cheese, heavy cream, a drizzle of olive oil, and a pinch of salt into a food processor, mixing until creamy and smooth.

Lastly, fry the sage leaves for garnish. Heat a pan over high heat. Add the butter, when it melts, add the sage leaves, and fry them until they change color and turn slightly golden, about 30 seconds. Be sure not to burn them, remove onto paper towel to soak up any excess oil.
To Plate:
Take a slice of baguette, spread some goat cheese mousse on it, add a few pieces of the butternut squash, drizzle with fig reduction and top with fried sage and pomegranate arils. Finish with flaky sea salt. Enjoy immediately!