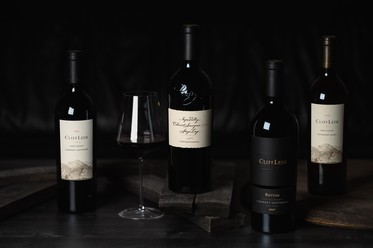 We appreciate our trade and media relationships, and are pleased to provide you with our brand assets, wine resources, and company information.
Distributor Partners: DOWNLOAD PDF
Media: For all inquiries, including press visits and additional assets, please contact Sam Viklund of Jarvis Communications, at 310-313-6374 or sviklund@jarviscommunications.com.
Trade: All visits to the winery must be by prior appointment, and approved by our sales team. REQUEST A TRADE VISIT
Accolades: VIEW CLIFF LEDE ACCOLADES • VIEW FEL ACCOLADES
---
Our Story
Cliff Lede Vineyards was established in 2002 with a diverse portfolio of small production wines with an unmistakable sense of place. Cliff Lede Vineyards, on 60 acres in Napa Valley's Stags Leap District, is known for its elegant Cabernet Sauvignon and Sauvignon Blanc. The flagship Cabernet Sauvignon, Poetry, is crafted from the steep hillside portion of the estate.
---
Cliff Lede Vineyards
Brand Summary
Comprising sixty acres in the northern end of the Stags Leap District, Cliff Lede Vineyards brings together some of the best Napa has to offer in an enclave of quiet and understated elegance. The grounds surrounding the tasting room feature gardens, contemporary sculptures, and breathtaking views of the Stags Leap palisades.
After Cliff Lede tapped viticulturist David Abreu to replant the vineyards, the plantings were so specific and precise to each soil type and exposure that, to keep track of the blocks without having to refer to a clipboard, Cliff decided to name each block in the Twin Peaks and Poetry vineyards after some of his favorite rock songs and albums. Block names such as "My Generation" and "Dark Side of the Moon" created what is known today as the Cliff Lede Vineyards' "Rock Blocks." Our winemaking team gets creative with this invention, annually crafting a small-lot "mash up" bottling of two or more blocks. Past vintages have included names like "Cinnamon Stardust," "Lonely Wizard," and "Landslide Fire."
The winery was established in 2002 on sixty acres in the northern end of the Stags Leap District by Canadian, Cliff Lede. With a heavy focus on farming, the team at Cliff Lede Vineyards blends old-fashioned techniques with cutting-edge technology. The gravity-flow winery, built in 2005, features truncated tanks commissioned using a design borrowed from Château Latour. It is one of the only facilities in Napa to operate a Pellenc optical sorting machine, sorting grapes based upon quality settings established at the start of harvest.
The winery produces Sauvignon Blanc and Cabernet Sauvignon. The flagship, Poetry Cabernet Sauvignon, is crafted from the steep hillside portion of the estate.
Vineyard Map

Cliff Lede Vineyards Map